Most people plan their vacations for better weather and relaxation. Others seek out new experiences and unique adventures that burn in their memories throughout their life. These unique vacations give them a different perspective on the world and can change them for the better forever.
If you are someone who wants that remarkable story to tell friends. If you want that unusual holiday that will not only put you outside your comfort zone but leave a positive impact on your life, then this list is for you. Check out this list of the Craziest Unique Vacations for Adventure.
1.  Climbing an Active Volcano in Guatemala
Now there are a ton of things to see in Guatemala and many of them are adventurous like Semuc Champey or Tikal. One thing that you can do in Guatemala is climb an active volcano and roast marshmallows on the molten lava. Pacaya is a 2552 meter active volcano just outside of the popular town of Antigua. The hike up to the summit is around two hours depending on your fitness level.
Make sure you have good hiking shoes as it is fairly tough terrain with loose gravel and dirt in places. Also be sure to bring your camera for some amazing shots and some marshmallows for the unique chance to roast them on the hot lava flows.
Of course heading to Antigua just to climb a volcano may not be enough. So here is some more tips and things to do in Antigua while you are there.
Sarah Hughes – Live Dream Discover
2. Hot Air Ballooning in Cappadocia, Turkey
You can go hot air ballooning in many places in the world. I would bet you would be hard pressed to find a hot air balloon experience as breathtaking and unique as doing it in Cappadocia Turkey. It feels as if you are on some distant planet with weird rock structures, homes and hotels built into caves.
Everyday you will see over a hundred balloons in the sky. These pilots are very skilled and get so close to the cliffs you can almost reach out and touch them. Combine this with the amazing view of colors at sunrise and you have yourself a picture perfect adventure. Those interested in more adventure in Cappadocia, there is also some great hikes, cycling and horseback riding in the area. Check out this link for more tips on vacationing in Capadoccia.
Nathan Sado – Fit Living Lifestyle
3. Mountaineering in Antarctica
Antarctica is the final frontier. Many board ships giving a unique glimpse of the magnificent landscape, the abundance of sea and bird life and majestic icebergs. To get more than a glimpse of this spectacular continent, a mountaineering expedition will let you be more at one with the landscape. It will have you crossing deep crevasses, dodging more than frequent avalanches and sitting down for a well-earned lunch with curious penguins waddling by.
The Antarctic Peninsula is not only the closest point of Antarctica to the rest of the world it is also the easiest place to access significant mountain summits. These soar out of the sea exposing sheer cliffs, the few areas of land not covered with a thick layer of snow and ice. The unique nature of Antarctic peaks is that you can ski down after you reach the summit!
Unclimbed peaks are in abundance, adding to the draw of this adventure. The risks are not to be underestimated and if things go wrong you are a long way from help. So, it goes without saying to have accomplished guides, have suitable equipment and have some knowledge of mountaineering before you set out. While no Antarctic trips fall in the budget category, the experience of immersing yourself wholly and completely in this landscape is something money can't buy.
Warren Dobe – Sling Adventures
4. Exploring the Rainforest of Guyana
Few places are as good as the rainforest of Guyana when it comes to adventure. One of the smallest countries in South America, and the only English speaking one, Guyana is blessed with lush nature, unique wildlife and incredible sights, which its people are working hard to protect. Adding to this, it has an incredible mix of cultures: Amerindian, with the 9 indigenous groups that are scattered in the interior; Caribbean; Indian and much more, thanks to its colonial past.
This is the kind of place where travelers can get completely off the beaten path, to visit the thick rainforest of the Rupununi region. It is a place to embark on strenuous hikes. There are short ones such as those to Awarmie Mountain or Surama Mountain, or much longer ones such as the 5 day hike to Kaieteur Falls, the country's most beautiful attraction.
You can fish for piranhas or even for arapaimas (though this is a catch and release fishing), the world largest freshwater scaled fish. It's where they will go in search of the jaguars, or where they will spend the night dozing off on a hammock in the middle of the jungle, only to wake up to the most beautiful sunrise.
Claudia Tavani – My Adventures Across The World
5. Annapurna Circuit in Monsoon Season (Nepal)
Guess a lot of people had been warned about trekking in monsoon season due to unpredictable weathers and disasters. Yep, there's no denying that trekking Annapurna Circuit during the monsoon season is dangerous, but it's also one of the best things I've ever done.
What's special about Annapurna Circuit in the monsoon season? Well, first of all, Annapurna Circuit is located in the rain shadow. That means almost the whole trek was protected against rain during the day. I trekked Annapurna Circuit for two weeks, but it only rained the first two days and almost every midnight.
Second, Annapurna Circuit receives much fewer trekkers during the monsoon season. Most of the teahouses are unoccupied, and they will compete for any trekkers passing by.
The best thing? They offer free stays as long as you dine in their hostel for dinner and breakfast the next day. You'll have to negotiate a bit though. If you never tried trekking in monsoon season, try Annapurna Circuit! And Annapurna Circuit only, most of the other treks are not in rain shadow so they're not protected against the rain clouds. Check out my article on 
Trekking Annapurna Circuit in Monsoon Season: Good Idea or Not?
 I'm sure you'll love it.
Yen – Swing Abroad
6. Canyoning in Zion National Park
If you want a truly adventurous vacation, 
canyoneering in Zion National Park
 could just be the best choice for you. Zion National Park, a few hours' drive from Las Vegas, is home to dozens of slot canyons – incredibly narrow canyons stacked in layers – that you can rappel down.
You will definitely need a sense of adventure for this; the first time you do it is a mixture of terrifying and exciting. Walking backwards towards the edge of a cliff, leaning back supported by nothing but a rope and then taking the plunge and going over the edge. This is guaranteed to get your adrenaline pumping. You can rappel down a dozen of cliffs ranging from 15 to 110 feet high, many not more than circular tubes formed by rushing flash floods.  It is even possible to shimmy down the shortest ones without a rope.
There are outfitters in nearby Springdale that can provide equipment and an experienced guide to show you the ropes and boost your confidence along the way. By the end of the day, plunging down narrow tubes seems easy – but the thrill never goes away. This is a crazy, but incredibly fun, adventurous vacation!
James – Travel Collecting
7. Road Trip in Iceland – Ring Road
I highly recommend a road trip around Iceland. So many people stay near Reykjavik barely exploring beyond 
the Golden Circle
 which is such a shame. If you get as far as the North of Iceland, you will see some of the most dramatic unusual landscapes. Sometimes it feels like you have landed on planet Mars!
The landscape is red, rocky and sandy. There are geysers bubbling and spurting and throwing steam into the air. Witness the raging Dettifoss waterfall – Europes most powerful falls. Experience Myvatn spa and relax in the thermal spa overlooking the unworldly scenery. Myvatn is Iceland's cheaper alternative to it's famous Blue Lagoon and definitely worth a trip.
Then carry on your journey along Iceland's ring road and experience some of the prettiest waterfalls and canyons in the South along with the incredible Glacial lagoon, Jokulsarlon. Find washed up icebergs on Diamond Beach and walk along black sand beaches with mountains on one side and the roaring sea on the other.
Iceland is an adventure lover's paradise and I highly recommend planning a road trip around the ring road!
Leanne Scott – The Globetrotter GP
8.  Hiking at Jebal Shams in Oman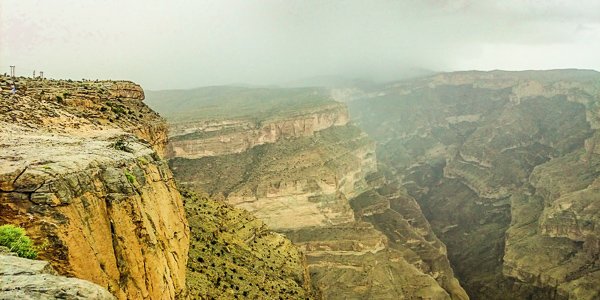 Oman is one of the most underrated adventure destinations in the world. The country is highly naturally diverse to offer the best adventures and outdoor sports activities. From a long stretch of a 3000km coastline to unexplored patches of golden sand desert, Oman has everything to offer to the adventure lover.
One of the most unique adventures to do in Oman is to hike Jebal Shams, the highest peak in the Arabian Peninsula. Jebal Shams (meaning 'The Mountain of Sun' in Arabic), stands tall at 3000m above the sea level. It also happens to be the second largest Grand Canyon on earth. Hiking at Jebal Shams is quite a challenging task due to extremely hot weather for the most part of the year and its rough rocky terrain.
The route going all the way up to the mountain is a narrow graded path that goes uphill and downhill all along the way. There are three main viewpoints at Jebal Shams where the hike is officially concluded. Overnight camping at the highest reachable spot on the mountain is a must-do activity. After all who wouldn't like to see the sunrise from the top of the Mountain of Sun?
Rahma – The Sane Adventurer
9. Boating down the Amazon River
As a biologist I have always been fascinated by the Amazon jungle and cruising through the world's largest tropical jungle on a local slow boat was an epic adventure we could not miss. Our enthusiasm was fueled by famous guide books talking about slow and crowded boats, wet, smelly, and uncomfortable conditions, seeing crocs, fresh water dolphins and tropical birds, this sounded like a huge adventure.
We boarded the brand new boat 'The Mun M Fernandez'. Our Amazon boat trip was from Manaus to Puerto Velho in Brazil. Manaus is deep in the Amazon Jungle and can only be reached by plane or boat. Spending a week on a slow boat, you pass the time by watching the river and the jungle. We were lying in our hammocks for hours reading and staring at the Amazon, wrapped in my sleeping bag during hard monsoon rain on the sink roof of the boat was my favorite time.
This was a great time to practice my Spanish and Alya frequently quizzed me. We saw some interesting animals on our trip like a couple of big Cayman Crocodiles slowly cruising down river. You can see many small caimans on guided tours from Manaus, especially at night when their eyes reflect and shine in torch light. I did not realize freshwater dolphins were so common seeing many pink and grey river dolphins swimming, playing and jumping every day. There were 15 army officers on our boat, they caught a massive Piraiba catfish that was in distress on the surface, these monsters grow up to 180 kgs! After years of travel this is still one of our most unique adventures.
Campbell and Alya – Stingy Nomads
10. Biking Down Death Road in Bolivia
The North Yungas Road used to be the world's most dangerous road when it was part of the main route between La Paz and Coroico in northwestern Bolivia.  It was estimated that 200-300 people died every year on the road, which snakes around the side of the mountain.  The road is barely wide enough for one car in places, so to imagine at as a two-way street with a sheer drop on one side is truly terrifying.
Now, safer roads have been built to replace it, but tourists flock here to bike down 'Death Road' as it is affectionately called.  There are still accidents here, and every year one or two tourists are killed when their bikes come off the road.  That doesn't deter the adrenaline hunters though who race down the road on mountain bikes, taking their life in their hands!
I wouldn't recommend this for beginners, but experienced mountain bikers will love it.  The scenery is stunning, as you pass through waterfalls and admire views across the valley.  There are several mountain bike tour companies in La Paz who provide the Death Road tour, but before you choose which company to bike down death road, check their reviews carefully and inspect the safety equipment and quality of the bikes.  You do not want your brakes to fail here!
Claire Sturzaker – Tales of a Backpacker
11. Rope Swinging off Batoka Gorge, Zambia
We'd always wanted to do a safari in Africa, so we settled on a four country trip. Our first stop was Zambia and Victoria Falls. It was wet and wonderful, but we still had some time to kill, so we were looking for something special to do. We were pleasantly surprised to learn that there was such an adventure option as the adventure swing over the Batoka Gorge.
Over 300 meters to the bottom of the canyon, the assistant clamps you in and you only have to take one tiny step. The swing is hung by a rope, which has no elasticity at all. At first there is free fall, then at the end of the rope, there is a jump back up, before it starts to swing over the valley. It seemed to take forever, maybe a couple of minutes before it was all over. Then it was a steep slog up the cliff to get back to the car.
12. Scuba Diving in Tofo, Mozambique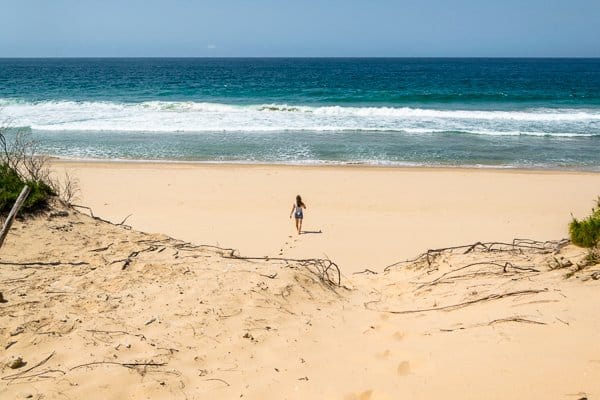 Where in the world can you spot enormous and epic macro life like manta rays and whale sharks while diving… and also experience basically no crowds? The answer is a place that most of us from outside southern Africa have likely never heard of: the tiny enclave of Tofo, Mozambique.
There is a handful of reputable dive shops to choose from in the incredibly small town. It's clear as soon as you arrive that scuba diving is a big draw of Tofo. Located on the Indian Ocean, the waters off of Tofo are teeming with incredible scuba diving opportunities. It also has plenty of action for people on the shore! Southern Right and Humpback whales migrate to the east coast of Africa for part of the year, and from the wide expanse of (often nearly empty) beach it is easy to observe the pods come and go.
Scuba divers may get an even better show, though. The whales will occasionally pass right by the small scuba boats, often with their calves! When you're not busy scuba diving, Tofo offers a beautiful beach to relax on. It provides delicious seafood at low prices to indulge in (think $15 USD lobster dinners), and plenty of opportunities to take part in less gear-heavy adventures, like ocean safaris and ATV rides through the nearby dunes.
Kate Storm – Our Escape Clause
For Social Sharing
World Traveling Blogger, Social Media Expert and Nerd who has a passion for Adventure and Fitness.